Journals Using Jmol/Elsevier
Jump to navigation
Jump to search
Elsevier journals using Jmol in articles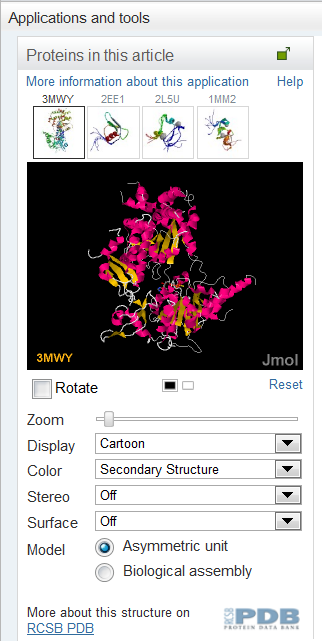 Articles in Elsevier journals (ScienceDirect website) which contain protein identifiers display their structure using a Jmol applet.
The applet and its controls, named Protein Viewer, are displayed alongside the article, in the right hand side panel (see image).
Using the thumbnail menu on top of the viewer, the user can browse through all protein models tagged in the article and interactively explore each of them: scale the model, change background color, experiment with different display and color schemes, apply surface rendering, switch between biological assembly and asymmetric unit and even view structures in a 3D stereo mode. It is also possible to open a larger Protein Viewer in a new window.
Protein structure files used for the interactive visualization in Jmol are obtained from the RCSB Protein Data Bank (PDB).
An example article: doi:10.1016/j.jmb.2012.04.031. Right now, only users with a subscription to the journal are able to view the structures; soon, public view will be available for open-access articles.
List of journals
| | |
| --- | --- |
| Appetite | Marine Chemistry |
| Archives in Biochemistry and Biophysics | Marine Genomics |
| BBA Bioenergetics | Mechanisms of Ageing and Development |
| BBA Biomembranes | Microvascular Research |
| BBA General Subjects | Molecular and Cellular Endocrinology |
| BBA Proteins and Proteomics | Molecular and Cellular Neuroscience |
| Behavioural Brain Research | Molecular Cell |
| Biophysical Journal | Neurobiology of Disease |
| Bone | Neurobiology of Learning and Memory |
| Brain Behavior and Immunity | Neurochemistry International |
| Brain Research | Neuroimage |
| Brain Research Bulletin | Neuropharmacology |
| Cell | Neuropsychologia |
| Chemistry and Biology | Neuroscience |
| Current Opinion in Neurobiology | Neuroscience Letters |
| Current Opinion in Structural Biology | Neuroscience Research |
| Developmental Cognitive Neuroscience | Peptides |
| Epilepsy and Behavior | Pharmacology |
| Experimental Eye Research | Physiology & Behavior |
| Experimental Gerontology | Progress in Neurobiology |
| Experimental Neurology | Progress in Neuropsychopharmacology & Biological Psychiatry |
| FEBS Letters | Progress in Retinal and Eye Research |
| General and Comparative Endocrinology | Prostaglandins and Other Lipid Mediators |
| Hearing Research | Protein Expression and Purification |
| International Journal of Developmental Neuroscience | Regulatory Peptides |
| Journal of Chemical Neuroanatomy | Steroids |
| Journal of Molecular and Cellular Cardiology | Structure |
| Journal of Molecular Biology | Trends in Biochemical Sciences |
| Journal of Molecular Graphics and Modelling | Vision Research |
| Journal of Proteomics | |
| Journal of Steroid Biochemistry and Molecular Biology | |
| Journal of Structural Biology | |